Bathroom Remodeling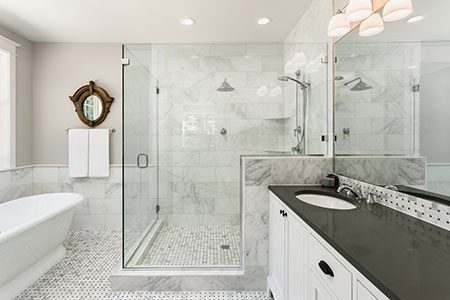 Modernize Your Bathroom
Bathrooms are one of the most frequently visited spaces in the home and many home owners want a welcoming, relaxing space for their families and guests. As one of Maryland's leading remodeling contractors, Blair Construction can help transform your space from utilitarian to extraordinary. We've been servicing Annapolis, Severna Park, Bethesda, Crofton, Bowie, Davidsonville, Laurel, Edgewater, Columbia, Millersville, and Arnold for over 25 years. Let us help add value and design to your home with beautiful bathroom remodeling.
Bath Remodeling Design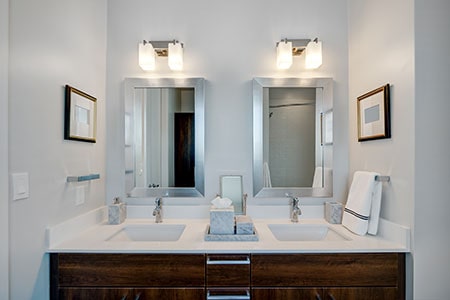 Blair Construction's talented bath designers can help you create a floor plan that makes the best use of the space available. Updated fixtures and lighting can help transform the mundane into the exceptional. Each aspect of your bathroom will be inspected and all necessary adjustments will be made, ensuring that your bathroom remodeling project will be done efficiently.
One important goal with bathroom renovations is maximum access. We do all that we can to avoid disruption and minimize the time when the room is out of service. Working promptly and professionally, our crew of bathroom remodeling specialists will perform your remodeling project while you relax and watch. In no time at all, your new dream bathroom space will be a fully functioning reality to be utilized and enjoyed by you and your family.
We take every detail into account. From floor, to ceiling, to fixtures and lights, Blair Construction is the skilled bathroom remodeling contractor Maryland residents turn to for all of their home improvement needs.
Project Management
As with each of our projects, Blair Construction oversees all aspects of your bathroom renovation, including plumbing, electrical, flooring, walls, and finishing. You'll be provided a written estimate and schedule. A project manager will be assigned to your job and will provide regular reports and updates. Your involvement in the process is encouraged. Our expertise and experience means your remodeling project will be efficient, high quality, and affordable.
Quality Guarantee
In addition to manufacturer warranties, Blair Construction provides a workmanship guarantee on all installations. If any problem occurs as a result of our work, we guarantee that we'll return and make repairs. We're licensed by the State of Maryland and carry full insurance coverage, including Worker's Compensation and $2 million liability insurance. Our workers all pass background checks and drug tests. You'll have peace of mind with Blair Construction on the job. Your local family run business since 1994. "Your Satisfaction is our Reputation."
Get a Free Estimate for Bathroom Remodeling
Call us today at 410-729-0777 or contact us to schedule a free in-home consultation about bathroom remodeling.  We have served bath remodeling clients in Annapolis, Severna Park, Bethesda, Crofton, Severn, Glen Burnie, Odenton, Bowie, Davidsonville, Laurel, Edgewater, Columbia, Millersville, and Arnold.