Roof Repairs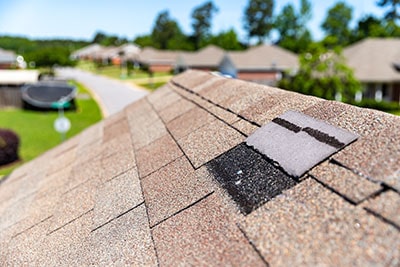 As one of Maryland's leading contractors, you can turn to Blair Construction for roof repairs and maintenance. You can expect efficient, high quality, and affordable work based on our expertise and experience. You can rest easy with Blair Construction on the job! We stand behind our work and guarantee our repair for 30 days.
Blair Construction provides roof repair for clients throughout Maryland, including Annapolis, Severna Park, Bethesda, Crofton, Bowie, Davidsonville, Laurel, Edgewater, Columbia, Millersville, and Arnold.
Residential Roof Repairs
Whether you experience a small leak or a major catastrophe, our experienced roofing professionals can make residential roof repairs quickly and efficiently. From Annapolis to Bethesda, with our 24-hour emergency maintenance, you can count on us to handle major damage from storms. Even a small roof leak can lead to bigger problems. Call us early to identify, isolate the source of the leak, and make the necessary repairs to restore your roof and avoid more expensive, and additional interior, repairs later.
Roof Maintenance
Like any part of your home, providing your roof with proper care and maintenance will help extend its service life and ensure that your home is properly protected against the elements. This includes having your roof inspected by a qualified Maryland roofer every 6 months, or after any big storm. Blair Construction is available to provide a trained eye to inspect your roof for hidden damage.
Property Management/ Commercial Roof Repairs
Blair Construction provides a wide range of property management and maintenance services for commercial buildings in Maryland. Let us be your "one call" for all your building needs, including regular maintenance and ongoing repairs. Our services range from commercial roofing maintenance programs to emergency roofing repairs and any other roofing issue you may have. We'll customize a property management plan that's suited to your needs and budget.
Certified Thermographers (IIITC/FLIIIR Trained)
Blair has thermal scan capabilities for leak detection. Please call for rates.
Roof repairs based on service rates
Call us today at 410-729-0777 or contact us to discuss rates for your area.