Commercial Roofing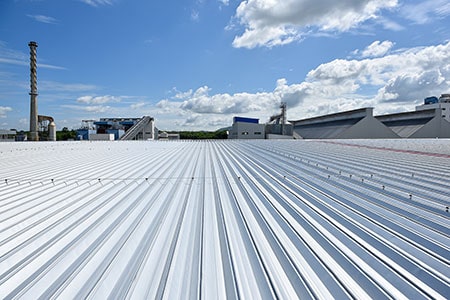 Blair Construction is one of Maryland's leading commercial roofing contractors providing a wide range of services throughout Maryland, including Annapolis, Severna Park, Bethesda, Crofton, Bowie, Davidsonville, Laurel, Edgewater, Columbia, Millersville, and Arnold. From roof installation and repairs to preventative maintenance and property management, our work is efficient, high quality, and affordable.
Firestone
Blair Construction is a certified Firestone Building Products roofing installer and uses materials from their full line of roofing systems and installation accessories. The Firestone Red Shield Warranty can range from five years to a Platinum 30-year warranty. Benefits include material and labor coverage with comprehensive, no-dollar limit liability, "edge-to-edge" system coverage, and coverage that's transferable from owner to owner.
Flat Roofs
Blair Construction specializes in re-roofing and repairing flat and low slope roofs of any size or type. If well taken care of by a flat roofing contractor, a flat roof should have a lifespan of 25 years or more. We recommend annual roof inspection and maintenance, with additional repairs when necessary.
Metal
Metal roofs are an excellent choice for commercial applications because they're non-combustible and fire resistant, low maintenance, long lasting, energy efficient, attractive, and weather resistant. They're available in a variety of styles and materials and are also an excellent method for re-roofing an existing roof and increasing your building's value. Metal roofs offer commercial building owners an exceptional value, with long life expectancy and competitive pricing.
Coating
Blair Construction has extensive experience in applying and maintaining Maryland roof coatings. Elastomeric roof coatings are an excellent means of prolonging the life of both traditional and metal roofing systems while reducing energy consumption. Coating adds a protective layer to existing roofing system and are more cost effective than a retrofit. Most coating manufacturers offer 10-year or 20-year system warranties on coating installations.
Preventative Maintenance Programs
Blair Construction offers a comprehensive preventative maintenance program that helps to ensure the integrity and effectiveness of your roofing system. Services include an initial assessment with recommendations, as well as regular roof inspections. We can help ensure the integrity of your roof and also help extend its service life by many years. An investment in maintenance now pays off in a significant delay in the expense of major roof repairs or roof replacement.
Property Management
Blair Construction provides a wide range of property management and maintenance services for commercial buildings in Maryland. Let us be your "one call" for all your building needs, including regular maintenance and ongoing repairs. Our services range from commercial roofing maintenance programs to emergency roofing repairs and any other roofing issue you may have. We'll customize a property management plan that's suited to your needs and budget.
Get a Free Estimate for Commercial Roofing
Call us today at 410-729-0777 or contact us to schedule a free in home consultation about commercial roofing.  We have served commercial clients in Annapolis, Severna Park, Bethesda, Crofton, Severn, Glen Burnie, Odenton, Bowie, Davidsonville, Laurel, Edgewater, Columbia, Millersville, and Arnold.