Green Remodeling & Energy Efficiency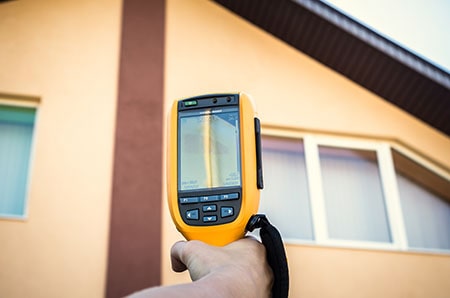 Energy Audits
A thermal energy audit is an inexpensive and nonintrusive way to identify energy-saving improvements to your home or business that can result in lower monthly energy bills. Blair Construction provides thermal energy audits throughout Maryland, including Columbia, Laurel, Bethesda, Crofton, Bowie, Davidsonville, Millersville, Arnold, Severna Park, and Annapolis.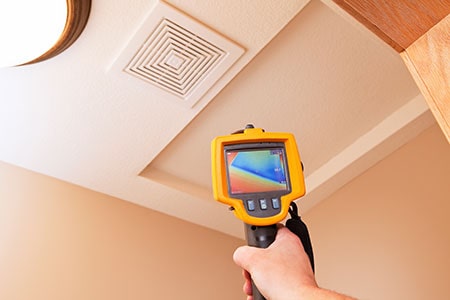 How Do Energy Audits Work?
We use an infrared imaging and measurement camera to measure thermal energy emitted from your home. An image of invisible infrared or "heat" radiation is produced and can even provide precise temperature measurements that are used to identify where energy is escaping and find ways to reduce your energy costs. We often discover missing or damaged insulation, gaps or cracks in walls and ceilings, hidden drafts around windows and doors, cracked foundations, and openings in roof and attics.
Once the problems are identified, we'll suggest money-saving repairs or upgrades. We can help you reduce heating and cooling costs, eliminate moisture penetration and minimize your home's impact on the environment. From general handyman services and window replacement to roof repairs and roof replacement, you can count on our work to be efficient, high quality, and affordable.
Green Windows
At a time when energy costs are at an all-time high, nobody can afford to "give away" that much energy. Blair Construction wants to help keep your home cooler in the summer and warmer in the winter without spending more money every year. Our energy-efficient windows are engineered with high R-values to keep your home snug and reduce energy costs. Each window is custom-fit to your home and is installed by our own factory-trained teams. Not only will you save money, our windows are also attractive, maintenance-free, and come in a variety of styles. Blair Construction gives you a beautiful way to view the world from your home!
LEARN MORE ABOUT OUR WINDOW INSTALLATION SERVICE
Rest Easy with Blair Construction
As with all of our services, Blair Construction will keep you informed every step of the way. You'll receive a written estimate and schedule. A project manager will always be on-site to provide regular reports and updates. Our workmanship guarantee means you'll always be satisfied. With over 25 years of experience and multiple trucks on the road, you can rest assured that we'll be around. We're also licensed by the State of Maryland and carry $2 million in liability insurance and Workers' Compensation. You can trust our employees as they all are subjected to a background test and drug testing. Blair Construction provides you with the peace of mind you need.Family owned and operated since 1994. "Your Satisfaction is our Reputation."
Get a Free Estimate for Green Remodeling or Home Energy Audits
Call us today at 410-729-0777 or contact us to schedule a free in-home consultation about green remodeling or home energy audits.  We serve Annapolis, Severna Park, Bethesda, Crofton, Severn, Glen Burnie, Odenton, Bowie, Davidsonville, Laurel, Edgewater, Columbia, Millersville, and Arnold.