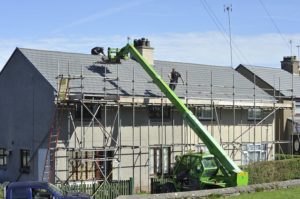 Keeping your roof in good condition is the key to protecting your entire house. Over time there are a lot of things that can wear the materials of your roof down. But with these tips, we hope to show you ways that you can take care of your roof and give it longevity. 
 Watch Out for Trees
If you have trees growing close to your house, then it's a recipe for roof damage. Low-hanging branches are notorious for scratching and even cracking roof shingles, and when the leaves fall, they can clog the gutters and trap water against your roof and eventually start leaks. The best thing to do is trim off any branches that touch or hang directly over your roof.
Don't forget the Attic
It makes sense that you should take care of your attic since it is technically the underside of your roof. Start by making sure your attic is properly ventilated to combat moisture accumulation. You should also have the insulation repaired to reduce expensive fluctuations in temperature. And the attic is a good place to search for any cracks or leaks in your roof.
Regular Gutter Cleaning
It's nobody's favorite job, but properly maintaining your gutters in one of the most important parts of taking care of your roof. Clogged and broken gutters could send water back against your roof instead of channeling it away from the house like it's supposed to. Remember, your gutters are connected to your roof and play a vital role in combating water damage. 
Call a Professional
The best part about taking care of your roof is that you don't have to do it alone. A quality professional roofing contractor can inspect your roof and spot problem areas that you might overlook. Then they will know exactly what to do to fix these issues. It's best to have an annual inspection to keep your roof going strong for years to come.
Contact Blair Construction Today for Your Roofing Needs!
For your roof repairs or a brand new roof installed by professionals you can trust, contact Blair Construction. We have been serving our valued Maryland customers for almost thirty years and look forward to giving your roof the care it needs for years to come. Contact us online or give us a call at (410) 729-0777 to get a free in-home estimate. To see examples of our work and get updates on what we are up to, follow us on Facebook, Twitter, Pinterest, LinkedIn, YouTube, and Houzz.