Roofer, Remodeler, and General Contractor in Annapolis, MD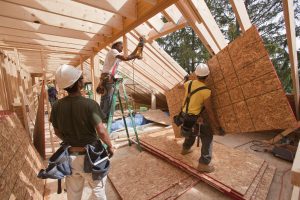 Many Annapolis, MD homeowners go about their everyday lives knowing that their home could use some work. Maybe they're dying to remodel their kitchen or bathroom. Or perhaps they suspect that their roof needs repair or replacement. Whatever the case might be, it can be difficult to know which roofing and remodeling contractor to trust. But for Annapolis homeowners, that decision should be easy. You can count on Blair Construction.
The Best Roofer in Annapolis, MD
There are few things more important to your well-being at home than your roof. Without it, you'd be open to the elements. Even a well-installed roof will need some maintenance as time goes on. If you suspect the roof of your Annapolis home might need a little attention from an expert, Blair Construction should be your go-to roofer.
All of our roofing services begin with an impeccable inspection. Just as a doctor can't do their work without a proper diagnosis, neither can a roofer. That's why we look at both the outside and inside your roof for any signs of damage. Then, we share pictures with you of what we found, explained in simple terms. After that, we will recommend either a repair or a replacement.
Most Annapolis homeowners hope that their roof will only need a repair, but sometimes a replacement is the better option. If we do recommend a replacement, you can rest assured that your roof is in experienced and professional hands. We possess GAF Master Elite certification, which means that your investment in a new roof will be protected by a 25-year warranty.
When our work is done, you'll be taken aback by the quality of our work and the efficiency with which it was accomplished. It would be our pleasure to install or repair the roof of your Annapolis home so that it can shelter you for years to come.
Remodeling Services and More in Annapolis, MD
Blair Construction has served satisfied Annapolis customers since 1994. In all that time, we've had plenty of customers who were so impressed by our work on their roof that they wanted to know what else we could do for their home. If you want to breathe new life into your home with a remodel, you can count on Blair Construction for that, too.
Our expert remodelers are every bit as professional as our roofers. No matter what your dreams are for your Annapolis, MD home, we can't wait to make them a reality. Here are just a few of the portions of your home that might benefit from our remodeling expertise:
Basements
Kitchens
Bathrooms
Sunrooms
Are you looking to boost the storage capacity of your kitchen? Our state-of-the-art WOLF cabinetry can do that for you. Do you want to transform your basement into a home theater, or a pool room? We can do that, too. You might not know what you're missing until we've completed our remodeling work on your home.
We have even more services to offer Annapolis homeowners than roofing and remodeling. For smaller tasks, we provide handyman services. We have years of experience performing energy efficiency audits and additions.
Blair Construction can't wait to transform your Annapolis, MD home. If you're interested in working with the most expert roofing, remodeling, and general contractor in the area, look no further than Blair Construction.