Shingle Roof Repair in Annapolis, Maryland | Licensed, Experienced Roofers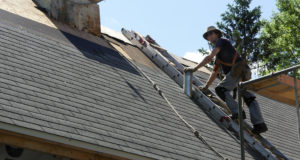 If you desire a roofing contractor for your home in Annapolis, Maryland, then Blair Construction is an outstanding selection. Our crew of professional roofing contractors is dedicated to give the Annapolis community the most reliable roofing services. Our priority is customer delight, clearly obvious in our record of success in Annapolis, Maryland. You can rely on Blair Construction if you need shingle roof repair, new roof installation or more.
Protect Your Annapolis Home with High-Quality Roofing
The essential task of a roof is to guard your home, including your possessions and loved ones, from the outside. Some home repair requirements are critical concerns, while others are cosmetic. However, handling your rooftop is on the must-do list.
Roof Repair or Replacement in Annapolis, Maryland
The root question concerning a roof is whether it necessitates being repaired or replaced. You can depend on a skillful roofing contractor to know the answer. Though your rooftop could seem fantastic, a professional eye can identify potential issues that reveal your roof's actual condition. At Blair Construction, we can give that knowledge and information to help you make the fitting choices for the most solid quality rooftop. We will direct a meticulous inspection employing our aptitude in roofing to give you the best appraisal of your Annapolis rooftop needs, as well as what fits your budget.
Reliable Roof Maintenance
Giving your rooftop the greatest possible maintenance it needs will help prolong its lifespan to shield your home. It would help if you had your rooftop examined by a certified Maryland roofer at regular times, or after any major storms. With Blair Construction, we offer an expert viewpoint to examine your rooftop for damage.
Roof to Last a Lifetime
The quality and durability of your rooftop are a piece of its essential highlights. If you trust in a roof to ensure your Annapolis home, it should hold up for a considerable length of time. At Blair Construction, our expert team works with the best materials and equipment to assure that you are pleased with your finished rooftop. By addressing every segment of your roof that requires fixing with care, we work to keep your home's energy efficiency.
Call Blair Construction Today For Your Annapolis Roofing Needs
For roof repairs or a beautiful new roof installed by professionals that you can trust, contact Blair Construction. We have been serving our valued Annapolis, Maryland customers for almost thirty years and look forward to giving your roof the care it needs for years to come. Contact us online or give us a call at (410) 729-0777 to get a free in-home estimate. To see examples of our work and get updates on what we are up to, follow us on Facebook, Twitter, Pinterest, LinkedIn, YouTube, and Houzz.